Day 1
Have you ever talked about your fears to strangers? That is how you introduce yourself when you are at The 4tables Project in Gunehar. Thanks to our host Frank, the conversation flowed freely, happily, and mockingly (mostly at the expense of Anoop chugster) over Rum & coke. 12 artists working on 12 concepts in 30 days is a reality show you wouldn't want to miss. The next 30 days, Foundonallfours will be acting as a binding force between art and locals through poetry, spoken word, visual art, theatre and performance.
Follow our journey while we bring live stories from Gunehar to your phones.
Let's make art local again!
Day 1 Challenge :
Our struggles of day 1 started even before we came here.
How do we get ideas without a shop we thought. We walked around the village wondering what the shops would be and imaged different spots and scenarios.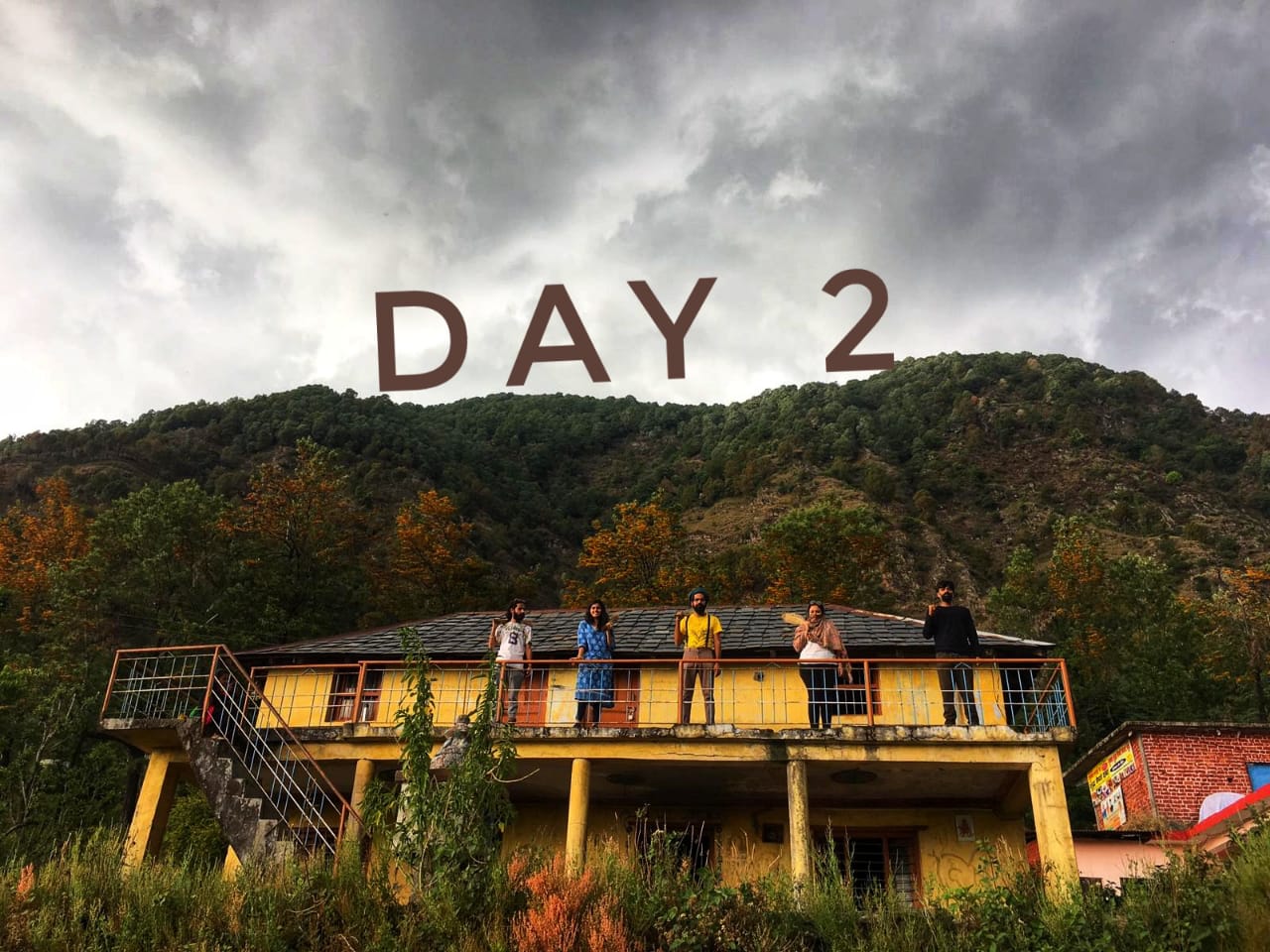 Day 2
The wait.
When Axl Rose sang, "All you need is just a little patience," I think he was talking about #kahanikidukaan. After the much anticipated and long wait for Gunehar's own art residency #shopartartshop, we have found our #KahaniKiDukaan at the most surreal of locations. This overwhelming feeling has finally started to sink in. Okay, maybe not. Day 2 was filled with varied range of emotions – the nervous wait for the final nod, the goosebumps during concept discussions, the eagerness to begin and also the much-dreaded cleaning process, the villain of this story, or so we thought.
But, if you want to build something great, you have to get your hands dirty and brooms and sickle and spade. Our reward, the greatest house-warming party ever. And, just like any other great house party we had food – in our case – homemade gol gappas, but with a view. For entertainment, we had our very own dance-off and a house-warming gift that made us melt – a hand-picked bouquet of wild flowers. For friends, we had a bunch of 8-12 year olds who met the children in us, while we met the storytellers in them.
The wait is finally over.
Day 2 Challenge :
On day 2 we wandered through upper gunehar along with all the other artists in search for the perfect shop. They were all so beautiful, throughout the walk we were anxious to see a shop that was us.
The moment we saw the magnanimous yellow house we knew we'd found it. What we didn't realise was how dirty and big it was also how this was the only house that still didn't have the owners permission to be used.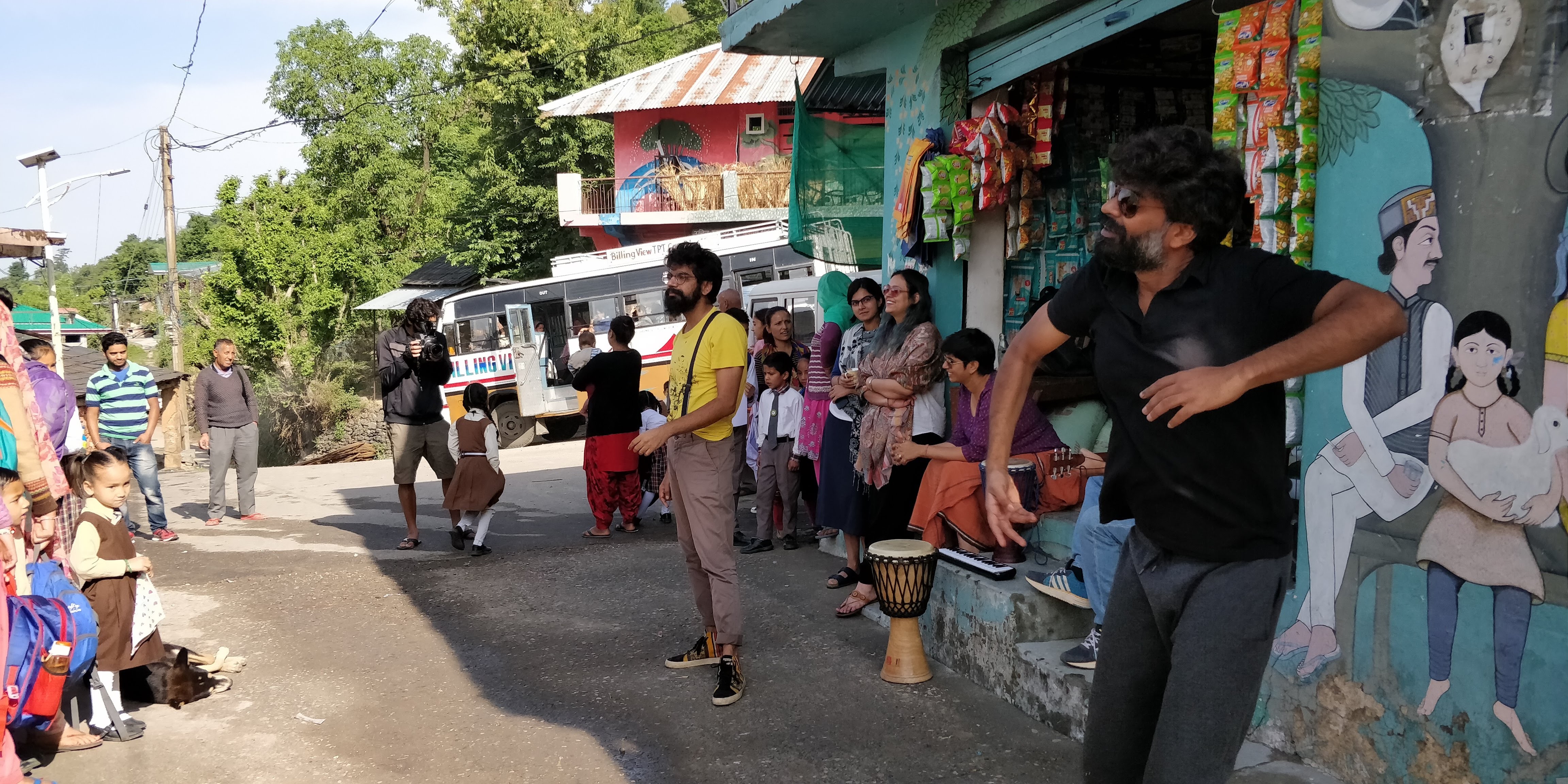 Day 3
Love comes like surprise ice on water. In our case, it came like surprise hail with rain. Today was about patience, a lot of it. We were patient at 7 AM when we were at the village square to perform our first busking of #shopartartshop. It was just a few of us playing for the morning silence, till we were greeted by some grumpy and sleepy school children waiting for their school buses. More than a few actually. What started off as a quiet morning soon turned into a story bazaar with children clapping on the beats of djembe from their school buses and waving us goodbyes on the chords of guitar. Fast forward six hours. We were caught in a thunderous hailstorm at #KahaniKiDukaan at upper Gunehar. Which meant we had to stay indoors with some village children who were patient enough to hear us rehearse some Kabir dohe and short stories. They say make hay while the sun shines, we made hay on a wet, gloomy day. Patience.
Day 3 Challenge :
The balcony, the view and the surroundings were perfect but the owner still couldn't be reached. Since we could not reach him we cleaned the place nonetheless.
Finally by noon end we got through to the owner and the shop was ours to transform.
After lunch some of us decided to visit the nearby school to interact with the children there. On our way there it started to pour heavily. This incident made us realize that the weather here can be rather unpredictable. We overcame it by changing our work time. We decided we will go early and leave by the time the clouds come out.
Day 4
As soon as we opened the Gunehar shop with branding courtesy Jasmine Kochar and art courtesy Alqawi Nanavati and fittings courtesy Vikas Gupta and Abhishek Malik, we found our first set of guests, children of Gunehar, making the most of our dukaan. These little elves, in the form of Gunehar children, buzzing around us, eager to help and even more eager to perform kept us going through the day and made sure our shop was never out of action even for a minute. As a return gift, we conducted an acting workshop with these magicians and gave them some lines to rehearse. What started as a way to keep them entertained, soon turned into a full-fledged rehearsal and we found some of the finest actors and directors among us. Check the stories to see some of Gunehar's first time actors and directors jamming with foundonallfours.
Day 4 Challenge
Adapting to weather conditions and
Habits of the people around proved to work for us. They wake up early and shut shops early too, today we started to adopt their schedule, this made us more productive too.
Day 5
Stories are best told in a balcony at the edge of a cliff. That's what our #KahaniKiDukaan looks like at #shopartartshop, Gunehar. Our shop has become a hunting ground for the curious village children who end up spending most of their free time post school reading/reciting stories with us, honing their drama skills and working on their art. The fact that #KahaniKiDukaan shares its space with Konman's #tuktukcinema makes our campus the happiest place of the festival. Almost a mini-entertainment city within the village. This #shopartartshop is about borderline, and through Kahani Ki Dukaan and Konman's tuktuk cinema, we are trying to make villagers transcend a fine line between reality and fiction. We all are a story, after all.
Day 5 Challenge:
We realised we cannot have gatherings regularly because it takes up our day and we didn't have enough time to create to new stories.
Day 6
Art residencies are about processes. Following a process over and over again till it starts to take some shape. Day 6 of #shopartartshop made us realise how important it is to live in the moment. We took a breather to write and reflect. We left the comfort of our shop and followed some wild trails till we found the tree with the widest shadow. That's where we began the process of writing our local broadways. Also, this is where Gunehar TV was born. Gunehar TV is our attempt to present the local life through international formats – news, skits and monologues. It is 'whose line is it anyway' of Gunehar. The best bit is Gunehar TV features actors from Gunehar and stories that transcends borders.
Day 6 Challenge
Today we became a team of three people from five. Now we had to redistribute work, taking into account that everyone can't do everything. We took into account team dynamics and renegotiate responsibilities. We also realized it's harder to work in a team vs working solo.
Day 7
वो कहते हैना, घने-काले बादलों के बाद ही साफ़ और खुला आसमान नज़र आता है| हमारे साथ भी कुछ ऐसा हुआ, 6 दिन धुंधले ख्यालों के बाद आखिरकार हमारी दूकान और विचारों ने एक आकार लेना शुरू किया| यह ज़रूरी नहीं के हर रोज़ हम कुछ नया करे, कभी-कभार रुक कर पीछे देखना और विचारना करना भी उतना ही महत्वपूर्ण होता है| इसी विचारना की बदोलत जो आज से पहले सिर्फ कागज़ी था वो अब हकीकत में तब्दील होने लगा है| पता नहीं इसका अंत कैसा होगा पर यह यकीनन कहा जा सकता है कि अब आगाज़ हो चला है| आज के दिन असल काम में भले ठहराव था पर हमारे धैर्य और वादविवाद ने हमें आगे बढ़ने का नया होंसला ज़रूर दिया|
Day 7 Challenge
Until today we had managed to capture the minds and imaginations of children, now we needed to move to adults too.