more pictures here:
https://www.facebook.com/tuktukcinema





K.M. Lo

Tuk Tuk Cinema
A tuktuk is a motorised rickshaw; KM will build one from materials in the village – it will have an
inbuilt cinema projecting on the roof and wall, with bioscope to peep through and a café. It can
even be a flight simulator and children can pretend to drive the Millennium Falcon!
http://facebook.com/tuktukcinema
http://youtube.com/tuktukcinema
SUNDAY SCREENING AT NEW TUK TUK CINEMA theater.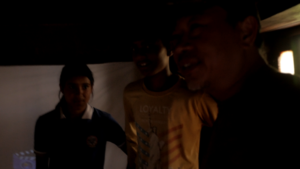 VINUD and NAVIN presenting their own Zombie Movie.
little kids were amazed how Vinud cured all zombie with a bag of chips.
2.6 million viewer on youtube, you may watch here too: