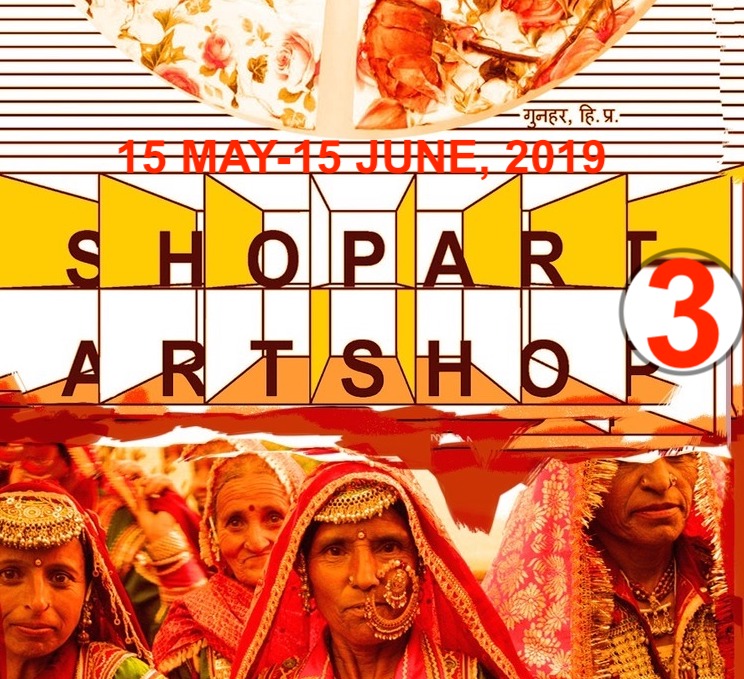 CALL FOR ARTISTS!
After two hugely successful editions of our triennial ShopArtArtShop (2013, 2016), we are now close to the third edition, which will take place from 15. May to 15. June, 2019. We invite mainly Indian artists to present us with a concept for an art project you would like to realize during the upcoming edition. Please send us your initial concept note by 28thFebruary.
We are looking for 12 artist from different artistic disciplines with an emphasis on art practice that goes beyond the narrow definition of traditional art, i.e. painting, sculpture etc., and defines art in its broadest form. Our primary interest is in concepts and ideas that deal with the given topic (see below) in thoughtful and creative ways and involves a process that is comprehensible and can be demonstrated openly.
OBJECTIVE OF SAAS:
On a first level, SAAS is about creation and presentation of arts to a broad public indiscriminately.
In today's art world, how can contemporary art practice be made relevant and under what external conditions must artists work so that the work they create is accessible by different sections of the society simultaneously and indiscriminately?
To address some of the issues facing the Art world and its disconnect with society at large, our approach is to merge different methods into an inclusive event:
— the initial phase is about artists presenting us a concept for the art work they will be working on during SAAS-3.
— the actual SA AS residency, paid for entirely by us, invites you to live in the village for a 24 day period and work openly on the presented concept in/with the public spaces the village offers (such as: primarily empty, economically unviable shop-spaces; hence the name of the project) in front of curious and sometimes prying villagers and visitors.
— the actual week-long exhibition, which not only demonstrates the end result of the your work but also incorporates typical local 'mela' elements, concerts, performances, screenings, podium discussions etc. to reach a broad cross-section of the society.
— an innovative, virtual and interactive internet platform that (1) enables the artists on the ground to demonstrate and archive the creativity process and interact with virtual visitors and (2) which enables virtual visitors to access the village, experience the proceedings and interact with artists.
Our aim is to demonstrate and document every aspect of the creative process: from the inception of ideas to the actual thought and work process to the final emergence of the exhibited artwork.
Unique features of SAAS:
1. The artist is present, i.e. accessible throughout the creative process
2. The process of creating Arts is transparent and inclusive
3. The artist is at a risk (of failing)
SAAS Artists need to be:
— Aware of and understanding of global contemporary art practice and trends
— Uncompromising in their work
— Integrative of rural folks/villagers and local themes in their work
— Incorporate local materials and methods in their work
— Able to transcend, through their work, all three levels: rural-India, urban-India and the global.
(Please note that SAAS is not about collaboration of artists among each other, but collaborating with villagers. This is not one collaborative project but 12 different projects, or 'ArtShops". A cross-fertilization of ideas between artists is desirable but not a condition.)
The conceptual framework of SAAS makes participating artists' face some serious challenges:
— the artist is required to give up his usual work place and surrounding and move to a village for a month
– the artist is required to work 'openly' in front of curious and sometimes scrutinizing visitors during the formative period of the work
— the artist is required to document every aspect of the work process on the internet platform and interact with followers of this site
— the artist is required to incorporate local ideas, sensibilities and materials into their work
— the artist is required, in a limited time, to create an artwork that upholds critical scrutiny by a diverse public, from villagers to art critics to followers on the internet
The daily practice during the 4 weeks of SA AS puts the artist in precarious situation because of certain requirements. 
The first sets of 'rules' have to do with implanting yourself into the everyday routine of the villagers, becoming one of them. By becoming 'just a shop-keeper', the otherwise rather elitist role of an artist is demystified. The symbolism is that just like the village welder, carpenter or shop-keeper, the artist too is a working person:
— creating a 'shop'-space in one of the empty shops or spaces
— giving it a 'shop'-name
— putting up a sign board of your 'shop'
— 'opening shop' daily and using the space for the project and as a space of interaction with villagers and visitors
The second set of requirements has to do with demonstrating that creating complex art-works does not necessarily need complex logistics. It is no use if we bring in complicated and fancy gear into the village that do not reflect the ideal, logistical and material realities on the ground:
— live in the village and incorporate elements of the village into your work
— use as much of local materials as possible (you will have a limited budget)
— use local artisans for your project if necessary
— find local solutions to logistical problems
The third set of requirements has to do with certain emotional boundaries of villagers we don't want to cross since we want acceptance and inclusion.
— An Indian village is not the place to create explicit works dealing with sexual or religious themes that might offend the villagers
— The behavior of artists in the village should be respectful and uncontroversial
— Generally, it is important to remember that our first connection has to be with our immediate surrounding and its people. All projects must be on some level accessible and appreciable to the village people.