Born in 1992 , currently living and working in New Delhi, India
Sarban  has completed his BFA & MFA in Ceramic art and pottery from Govt. college of Art & Craft, University of Calcutta in 2014 & 2016  respectively. He has bagged a few fellowships, awards and grants including the Prafulla Dahanukar art award , National scholarship to young artists by the Ministry of culture, Prince Claus Fund Cultural exchange grant Netherlands etc. He has also participated in several art residencies across the globe such as the 54th International sculpture and ceramic symposium in Boleslawiec Poland, 4th International wood fire ceramic symposium in Russia, Piramal Art residency in Mumbai, Uttarayan Art residency in Vadodara, National Ceramic camp by Lalit Kala Akademi, Kala Sakshi workshop in Delhi etc. His major exhibitions include the CIMA Award show 2019, Gallery BOK Centrum Ceramiki Poland in 2018, Weaver's studio Kolkata in 2018, Birla Academy of Art and culture Kolkata in 2016, 2017; Emami Chisel gallery in 2016,2017; Gen Next VIII at Aakriti Art gallery Delhi in 2014 etc. For a living, Sarban designs products for various lifestyle accessory companies and ceramic factories which have also been displayed at prestigious events such as Salone del mobile in Milan and Ambiente in Frankfurt. His works are in collection with museums, private collectors and art lovers in India and abroad.
Day 1
We all went on a walk around the village to visit the respective sites that were available for our project.
Day 2
The site I chose had piles of trash and building waste that needed to be either cleaned/removed or used in such a way in my work that it becomes a part of my work. I spent the entire day visualising what I could do with the space. Since we are mostly adapted to exhibit in galleries and well designed spaces , this one was pretty challenging for me to use a space like this.
Day 3,4,5 & 6
I started collecting waste objects from in and around the village as such iron scraps, stones, wood etc. I also started some work with the terracotta clay that Frank gave me. This clay was quite different from the one that I am normally used to. Since I work with mostly stoneware and porcelain in my studio, using the local clay seemed quite difficult for me due to it's low plasticity and inability to do minute detailings. Also the lacking of a proper ceramic studio infrastructure helped me to think out of the box. I decided to collaborate clay with other mediums to do justice to the huge space that I have selected.
But unlike the other artists I am still not sure about which aspect of Borderline I should exactly focus on in my project. This seems little frustrating to me at times as everyone is so clear about what they wanted to do, they all had a specific project but I have had so much thoughts about the subject that I could hardly focus myself in a particular line. But this is also because i did not come with a preconceived idea  about the project and i wanted to see where this journey leads me to.Each of the works that I started  had a different approach to the subject. But one thing I knew was that I was enjoying the process and I am also sure enough that I will do maximum justice to the site that I have selected for myself.
Day 7,8,9 &10
I have reached a midstage in my work process where each of the discarded objects that I had collected have started getting into a shape.
Work 1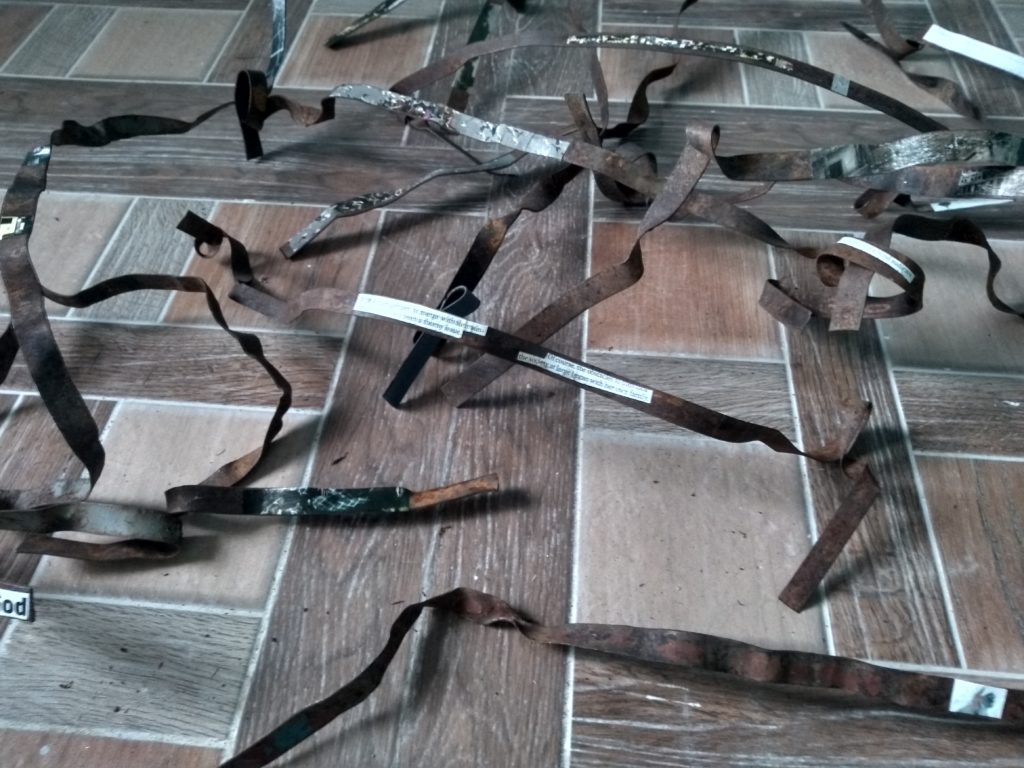 This work is a composition of different bent and twisted iron strips – perhaps a depiction of the modern complicated world. I have used images and writings from magazines which focuses on different aspects of a borderline as such war, destruction, gender issues, religious discrimination etc and pasted them on the iron strips. All these images and writings are in a collective just as all our problems and discriminations together constitute the world.
Work 2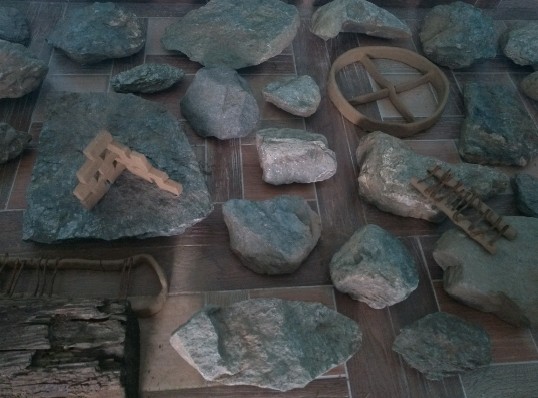 Ever since I stepped out from the bus after reaching Gunehar, the biggest difference I felt was the fact that unlike plain lands , here all the living infrastructures were somehow connected to the mountains and what constituted the mountains were rocks and the earth. The roads and traditional old houses are all made up of rocks and stones. But amidst them lies some modern architecture which looked like a borderline to me separating the natural earth from it's modern man-made structures.
This work of mine has been inspired from this concept and this is going to be an installation of rocks, terracotta sculptures and some found objects. The presence of a round market place amidst the village in the form of a terracotta minimalistic form, bridges connecting the village, underconstructed brick structures, etc all together form an installation depicting my vision of Gunehar.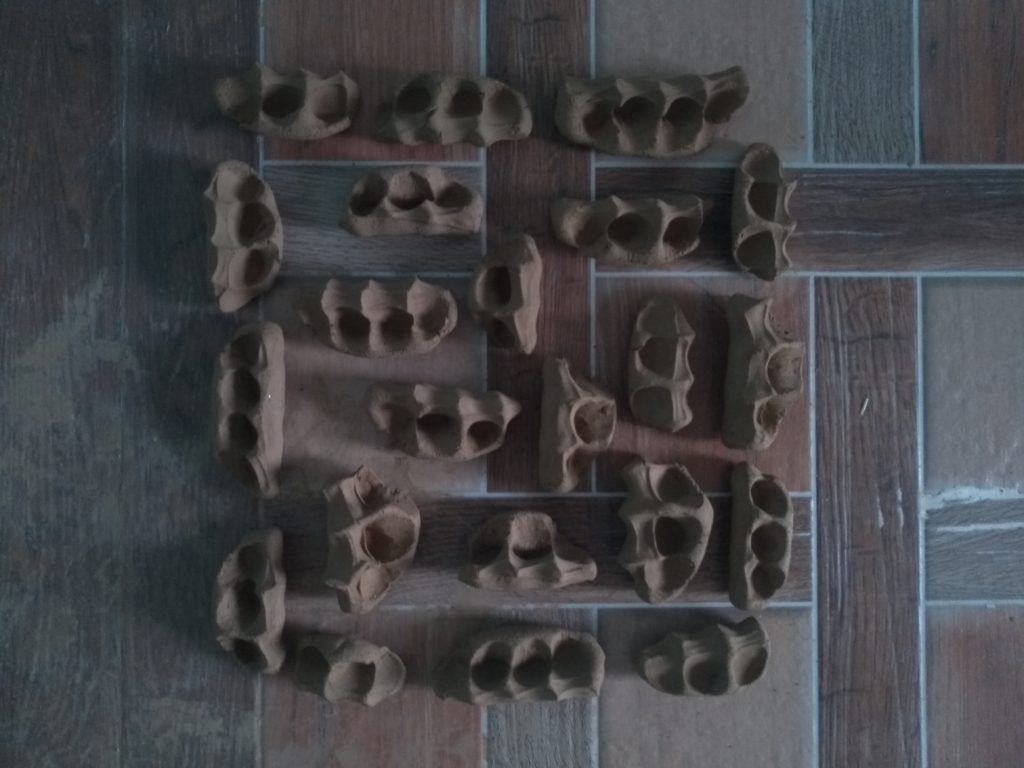 Work 3
The pile of trash constituting of building waste looks like a body of destruction to me. From the very first day itself I wanted to use this for my work rather than discarding it. During my working hours in the daylight I keep staring at the dumpyard for hours feeling frightened at times. But at night when I go back to my room and take a nap I feel so peaceful and relaxed. The bed for us is a symbol of harmony and unanimity , hence I am looking forward to juxtapose an original wooden bed with the trash to create a site specific installation.
Day 11,12,13 & 14
Most of the time I have been busy trying to rethink and reconceptualize whatever I have done till now. Also I have been lazy recently and mostly taking a walk around the village to explore something new.