Festival Opening
ShopArt ArtShop 3 opened in fine form with performances by storytellers Found on all Fours, musician Yash Sahai, and our local Gaddi dancers, as well as presentations by all the artists at their 'shops', and a preview of Gaurav Gokhale's film of ShopArt 3 experience.
Artists' shops will be open for the next 6 days with a closing event on 15th June.
Villagers watch from vantage points as Yash Sohai performs two of the songs from his upcoming 'Kangra Blues' digital album:

Village girls dressed in traditional Gaddi costume, performing their dance routines:
Sultana Zana describes her Forest network project 'All the Lines became Invisible':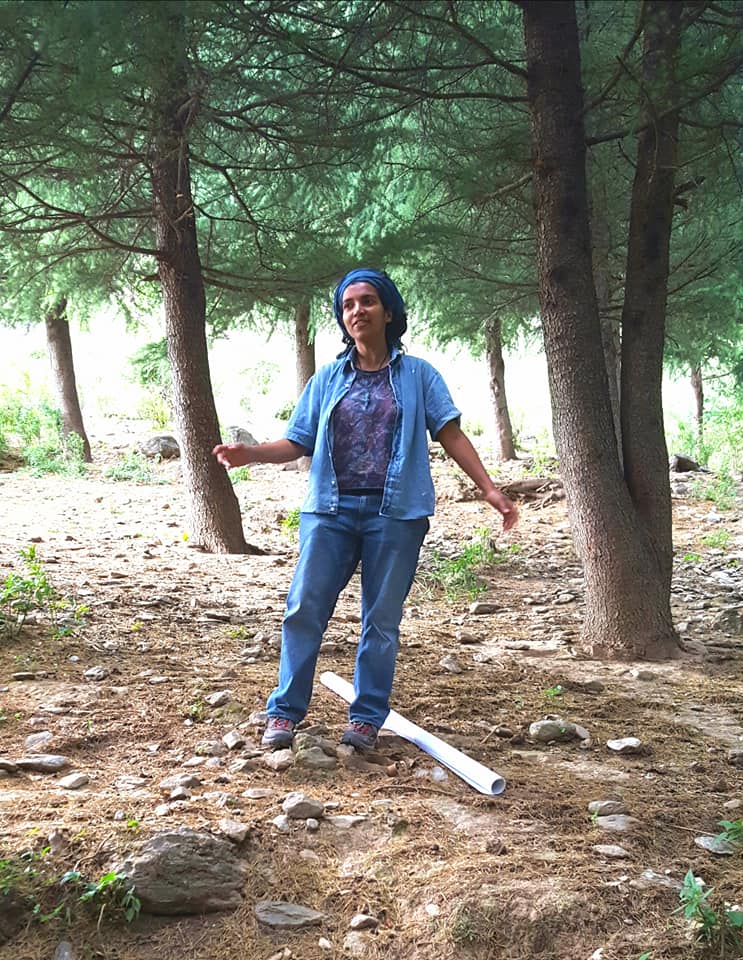 'Found on all Fours' launch ShopArt 3 with engaging beat poetry!
Pramila Choudhary introduces 'Roots', looking at the blurred lines between the traditional and modern fashion, and raising awareness of the effects of synthetic materials and fashion industry waste:
Devyani Smith introduces 'Life Between Lives', her contemplation of our past and future lives:
And some of our villagers, audience & visitors, without whom…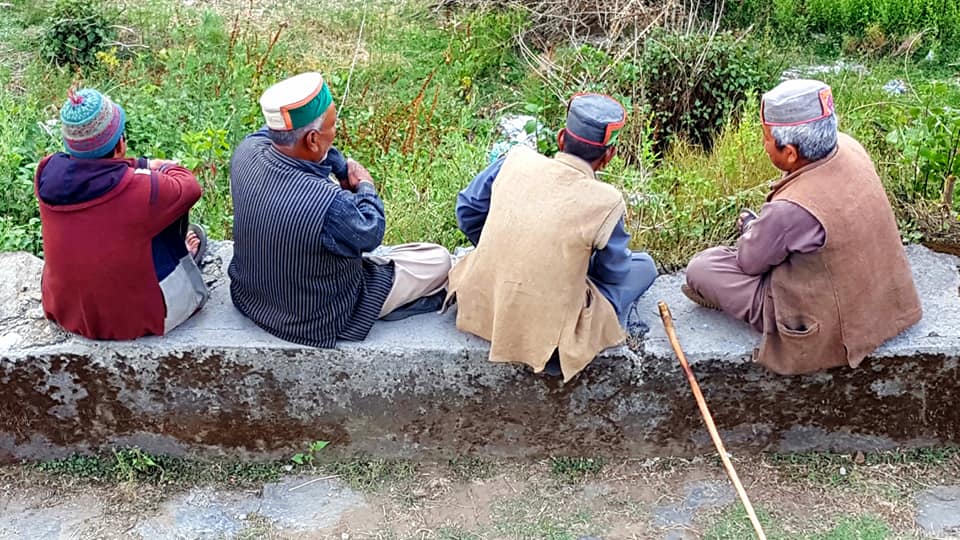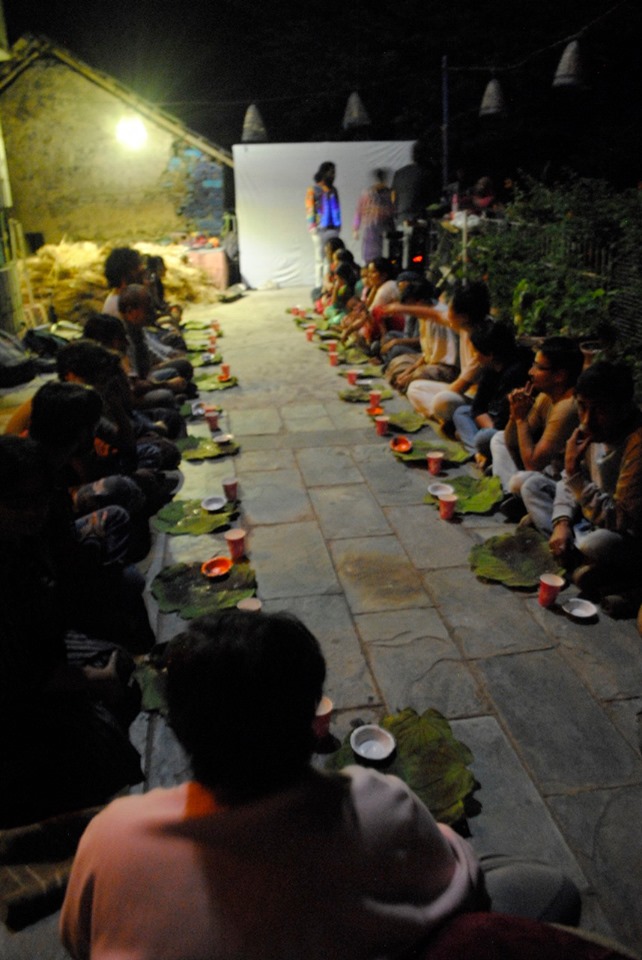 Congratulations to all the artists, and thank you to Frank for all your efforts, and to Suman and your team for everything you do for all of us.
Day 22
With barely a day to go before the start of the ShopArt Festival on Saturday, artists are putting finishing touches on their shops and projects.
Sarban Chowdhury built a not-so-small kiln yesterday to fire his approximately 700 small pieces. Today, there's smoke coming out a few small holes not covered with dung. He'll open the kiln tomorrow morning. What's he going to do with those 700 pieces?! Hmm…
  
Fun things are happening at Amritah Sen's shop! But what is going to be written in those speech bubbles?


Some colourful and intriguing photos are gracing the walls of Asmita Sarkar's upstairs shop, but what on earth is that in her attic?!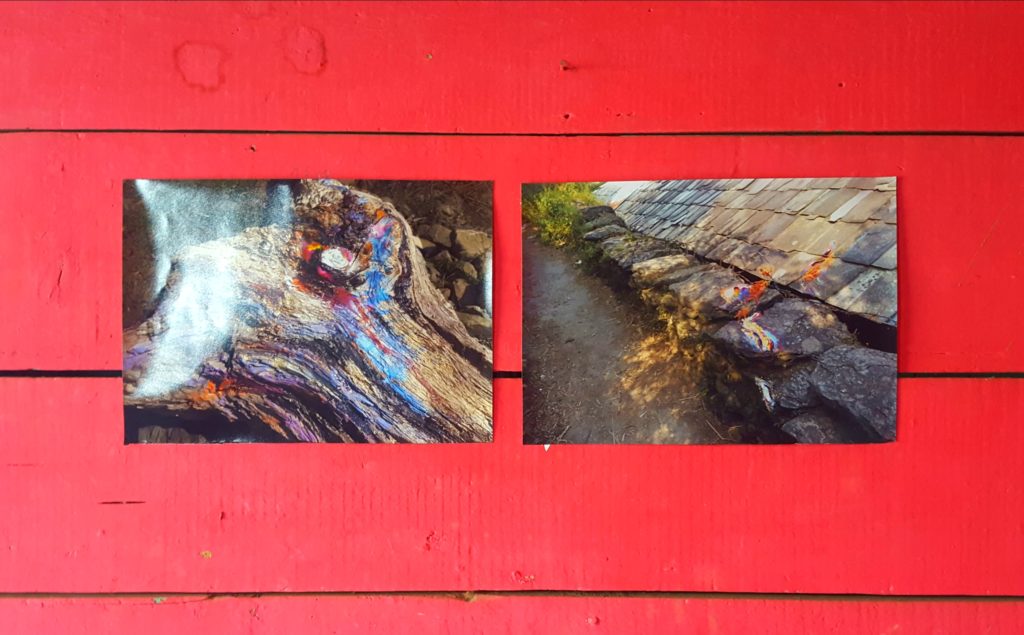 You're welcome at Devyani Smith's shop, which has also become a little bit of an artists tea shop.
Pramila Choudhary is cutting up yards and yards of brightly coloured material, and there are reels of wire lying around. Some massive installation is planned.
Yash Sahai's music shop is looking like a very cool place to sit a while, relax, and listen to some beautiful sounds.

KM Lo has been building an actual 'tuk tuk' – well, sort of… with a bunch of village kids, and it's promising to be great fun for his usual following.
At the top of town, storytellers Found on all Fours, have auditioned and secured an array of local talent for a series of upcoming performances, using local stories, which may or may not be true…
Editing is happening at Sultana Zana's house – watch out for a fascinating look at a never-before-seen world.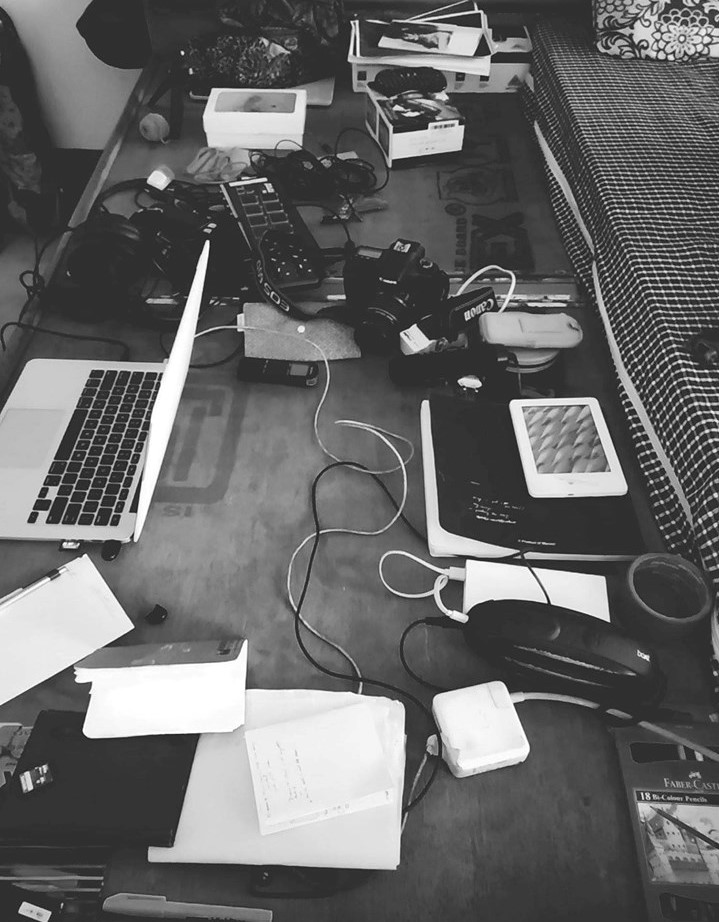 Last but not least, filmmaker Gaurav Gokhale, (seen below at right, with musician Yash Sohai, left, Found on all Fours members, and Pramila Choudhary, interviewing the local postmaster) has snippets, previews, shorts, and maybe even a music video, coming up during the festival.

Come join us in Gunehar, from Saturday 7th June, for an exciting week of arts and entertainment!
Day 19
Pramila Choudhary has worked for several years in small-scale fashion enterprise throughout India, helping develop resourcing and sales systems. (Interestingly, it was in this arena that she met and became friends with Rema Kumar, SAAS2's fashion artist.) At the other end of the fashion scale, Pramila also consults as designer to a number of national and international high-end fashion and home furnishings companies.
She began her project at ShopArt with a view to comparing and contrasting the changing fashions of the village, from the traditional clothing still worn by the older villagers, to the modern clothes of the younger villagers. There've been a number of really interesting observations emerged from this:
The elders are happy in their very traditional attire, but are also entirely happy for the younger generations to dress as they would like. This modern view carries over into other aspects of life – if women want modern jobs, that's fine; if they don't want to marry, that's fine; and so on. There is a distinct lack of moralising about what's okay and what's not, something Pramila says is the normal way of life in the bigger cities (not including the likes of Delhi and Mumbai which are super large and more cosmopolitan). Few if any of the elders have been out of this space that is the village but yet they're happy to allow a modern approach by their grandchildren.
Pramila has added an additional focus to her project: what she's referring to as "the other side" of fashion. In particular, she's concerned to show the extent of waste in the fashion industry in India, which has grown from an almost no-waste time when people spun their own wool and wove their own fabric, to a time when there is a new – and mostly synthetic – garment for every occasion. Just one tailor in Palampour, with four seamstresses, is producing up to 50kg of waste a day. Just one. And much of this waste is burned, or thrown away, neither satisfactorily. Waste generally is a massive issue in India, where the proper disposal and recycling of waste is little appreciated.
Pramila's 'shop' is an old mud house near the top of the village, which she shares with Yash Sohai. Serendipitously, she found three ancient spinning wheels tucked away in a corner.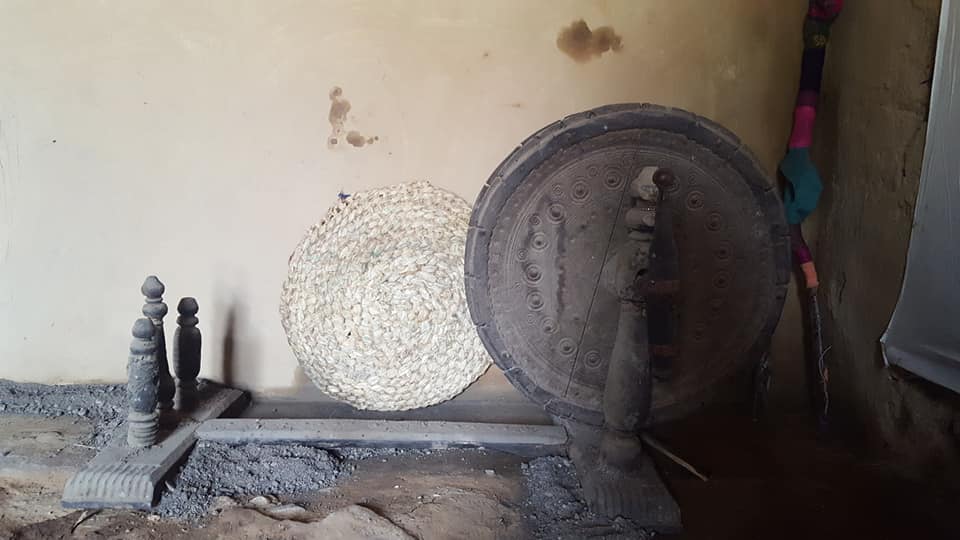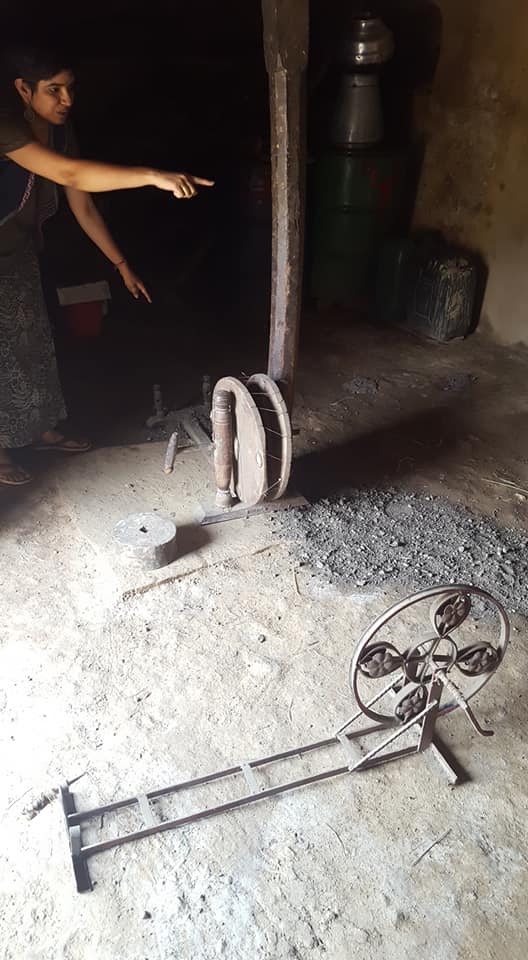 Amazingly, Yash, a musician, found an old drum, and another ancient and traditional percussion instrument on the walls of his 'music shop' upstairs.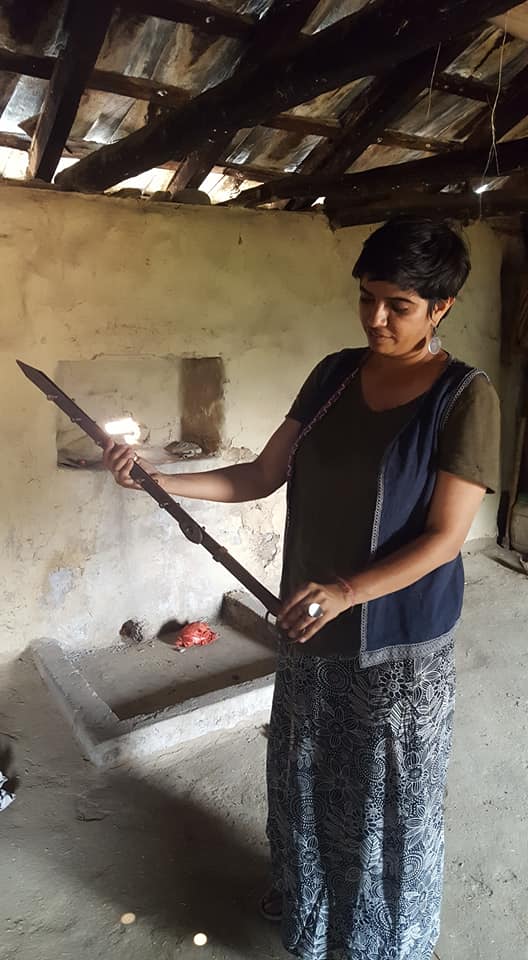 Apparently they're meant to be here.
Day 16
Uncanny. The borderline of perception between reality/the mundane and the extraordinary… between what the viewer sees and what the artist can portray.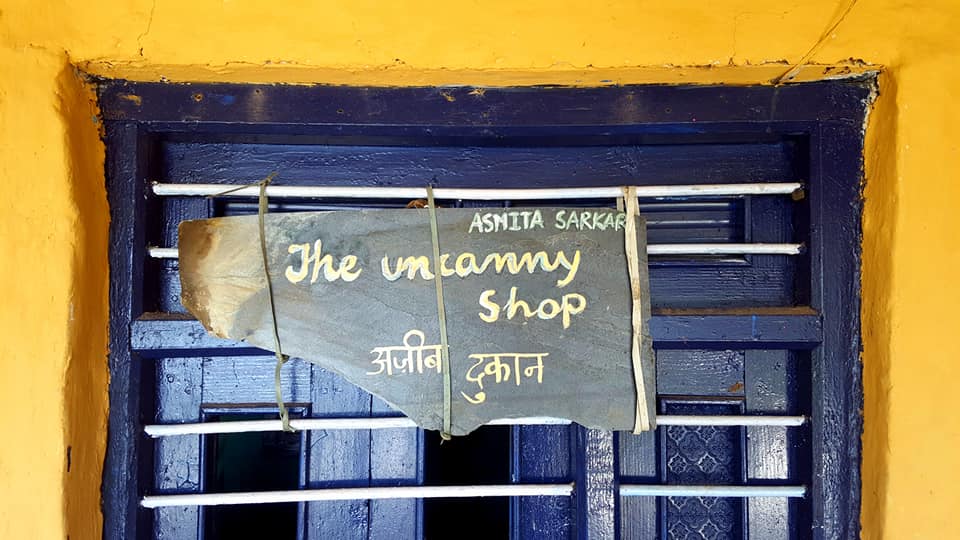 Asmita Sarkar is trained in psychology, with a BA and MA in Psych, and a Masters in Fine Arts. Versed in psychology as she is, Asmita's research interest intersects art with psychology and considers the line – subtle or not so subtle – between the ordinary and the artist's recapturing/re-portrayal of that mundane thing, making it perhaps extraordinary, and certainly 'uncanny', unexpected; to look at validating subjective experience.
In an art gallery in a city, that line is clear – outside in the gallery, in a village, using the village and landscape as canvas, that line is more subtle.
Although a painter, Asmita hasn't wanted to use paper or canvas, but rather paint on and with the landscape and its components:
Texture and especially colour are relevant to Asmita's installations and painting, so that the work blends into its own space, or something related. 'Loud' would defeat the purpose of the uncanny, the subtle.
 
Asmita is looking forward to the conversations she will have with visitors to her 'shop' in an old mud house, above Devyani Smith's 'Life between Lives' installation. What will they see? Will they say? After five art exhibitions/festivals in the last six years, the villagers sometimes have some very 'uncanny' things to say about art.
Day 14
by Sue Fitzmaurice
There's a certain stage a woman can get to that is a crossroads between her past and her future. It's a massive point of reflection and analysis, and recognising it, and 'being' with it, are crucial to one's process of becoming.
Devyani Smith is at this stage, and so am I. We're 40-something and 50-something respectively, and many other women our ages find themselves here too.
As we talked about this this morning, we realised that most women our mothers' age/generation either didn't recognise, or have the freedom to explore, this point in their lives. Whereas so many women we know in our generation have this freedom and are doing precisely that.
In large part, it is a spiritual process. Not because it has anything to do with a god or gods, or a religion, but because it has to do with who we are, why we're here, and where to next, which are the fundamental questions of humanness and meaning, and necessarily connect us to our higher selves, our creative selves, and thus our spiritual selves.
It's when outside beauty is fading, and inside beauty is not only growing, but replacing outside beauty as the point of attraction that people have to us. It's when we realise we don't need to try anymore, and that anyway we can't be bothered. We have no need to fit in – we either do or don't and whichever is fine. It's when we look back on all our presumed failures and understand they really were stepping stones. It's an intersection between where we've been, who we've been, what we've been… and where, who, and what we'll be next. It's when we surrender to what is, not in resignation or defeat, but in self-respect and self-love, letting go of pushing.
(Above: Life Between Lives – perceived brokenness comes together to a point of contemplation.)
In this spiritually feminine age, it is an essential time – a duty almost – that in so doing we create the space also for our daughters to explore their creative, divinely feminine selves; and we expand the spread of these essential feminine qualities of self-nurture, reflection, unity, and surrender, within an often hostile and divided world.
These are just some of the thoughts Devyani and I shared this morning, reflecting on her chosen theme for ShopArt: Life Between Lives, 'a reflection on the life lived and the life to be lived'. Her goal has been to create 'a map of contemplation'. It's already working.
I 'get' Devyani's project in my soul. I hope it's the cause of many more discussions with many more women, and men, through the remainder of the project and the festival.
Day 13
by Sue Fitzmaurice
ShopArt is many things – exhibition, residency, festival – but equally (perhaps most of all) it is an experiment. And so, like all good experiments, documenting and analysing its processes and methods is vital.
Some aspects of method and process have changed over the six years since ShopArt1 to ShopArt3. Here are some key aspects of its development history.
The first part of the experiment was just to see if it could be done – to take artists out of their studios in the city and put them into a small village and make something beautiful happen.
There was no theme as such for the first ShopArt. The brief called for the artists to show how can they could relate to a village as an artist. Projects were chosen because they were able to show a concept without actually coming here, and by communicating that they 'got' it. Any proposal that showed a patronising attitude towards the village was rejected.
Thirteen artists came and produced great projects and overall it was judged a success.
Following SAAS1, advice was that in order to grow (to get more exposure and attract more money), ShopArt had to have a bigger team and should collaborate with established and famous artists. This was the key difference upon which ShopArt 2 proceeded.
Projects were decided ahead of time, for example, a Gunehar Fashion show, a Kangra miniature painting project. Artists were invited to apply for a particular project, and to look at modernising some aspect of village life without losing the tradition of it.
A downside emerged from the new collaboration model in that others variously imposed their own will and ideas on the project, losing sight of what ShopArt was all about.
It was clear that ShopArt needed to return to its original model, stay lowkey and not mainstream, and back to the participants being emerging artists. And Indian.
So ShopArt 1 was about just come and we'll see what happens. SAAS2 was an emerging theme, looking at village traditions. SAAS3 has been about how creating and maintaining optimism in the divided world we're living in today, which is both very globalised and very troubled.
And this time also, the focus has been on documenting the individual artistic processes of the artists. ShopArt has never been about coming here and just creating art; it's been a process-driven art residency, where you're expected to have challenges in this village setting, and to find viable solutions.
Halfway through ShopArt 3, it can be seen that an increased focus on the conceptual and abstract has been tougher. To think about the meaning of 'borderline' is difficult, clarifying one's concept is challenging, converting thought into art.
Will this change what happens for SAAS4? It's unlikely it will change anything in the sense of making it easier, but it also now becomes part of the ongoing process and development of ShopArt.
Curator's note on day 12 for our artists.
by Frank Schlichtmann
We are halfway through the residency today, with another 11 days to complete the projects.
At the half-way mark, it seems to me that a number of projects are struggling, both (still!) with the preliminary conceptual-abstract thinking process as well as the process of expressing this through the mediums of your art.  Many of you have not found your theme, and so the work so far feels confusing and inadequate to me. There is a great danger that we as a collective will fail if we don't get it right in the next 11 days.
I have from the very beginning stressed the importance of conceptual thinking as the starting point of each project. A concept enables us to occupy a space that is in some ways fictional, i.e. outside of our normal thought patterns and mode of operation. With the theme that you have been given, to explore the topic of boundaries/borderlines, either through your own experiences, or through the exploration of outside phenomena, in itself gives you a framework to develop the conceptual backbones of your individual projects.
At this stage of the project, i.e at the half-way mark, I have a feeling that some of you feel that the concepts and mode of action we had pre-discussed was just a formality to get into the residency and that you do not actually feel need to follow up on the agreement. Or that you are having difficulties… in which case I am not seeing you coming to me with your difficulties.
The agreement states clearly that:
1) You will present SAAS-3 with a concept, in words (!), that will be the backbone of your project.
2) That you will work on the pre-discussed project, using your medium and addressing the theme of the exhibition, from 'scratch', and develop an independent and new piece of work/works.
3) That the work/works will be "unique" in finding some answers to the global trend of disenchantment, division and separation that seems to plague current development.
Also, importantly:
4) To document the struggle of creating a work/works within the given parameters, and every step of the process
a) in your shops;
and b) online.
I have rephrased here to reemphasize the importance of what SAAS-3 is trying to achieve. I have made this very clear in all our texts, information, guidelines, and in all communications we have had before you were selected, and so I will have to insist on your taking this seriously.
It is time now, if we do not want to fail, to look into the project so far with clear eyes. So we will start with  a day-long symposium/meeting of all of us for tomorrow, 27th, from 9.30 onwards. The objective of this meeting will be to discuss, hopefully intensely and honestly, where we are right now with our individual projects. We would also be working on our individual blogs, since most of these are still either without any posts or very basic. The hope is that by formulating and presenting the projects on the blogs, some clarity will come into the individual projects, both for you, but also for those who want to see and read about your work and process.
Day 11
Although trained as a painter, with a Masters in Fine Arts, Amritah Sen has increasingly found her interest is in visual story telling. Thus her art has moved away from the two-dimensional, wall-occupied painting, to three-dimensional, hand-made art books that a) tell a story, and b) allow the viewer to hold the art in their hands.
Looking for her 'Borderlines' theme, Amritah chose 'Dreams vs Reality', picking up on the life and aspirations of the village children, and portraying these in a concertina book, in bright and appealing paintings.
Her 'shop' for the #Shopartartshop residency is a half-built house not far up the hill, which she shares with Saban Chowdhury. She and Saban are using the relatively complete downstairs as their working space, and will exhibit their work on the open and incomplete second level. Their exhibit hall is thus, in effect, a building site, forcing them to either work around or incorporate into their exhibits, large piles of broken bricks and other materials.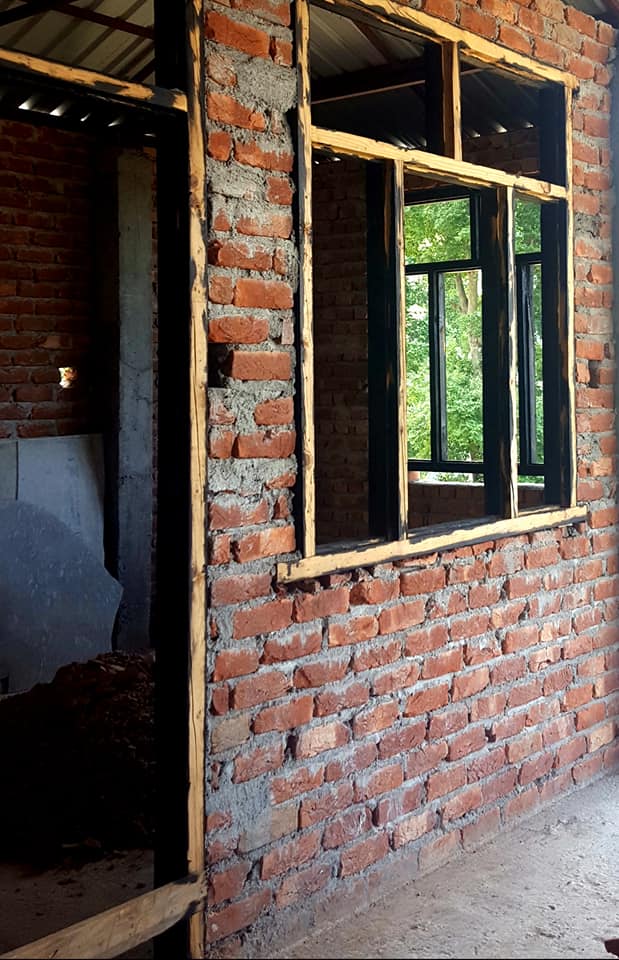 Like most of us visiting here, Amritah is interested in the lives and attitudes of the villagers, and whilst the exhibition isn't about the village per se, its many elements necessarily fold themselves into the artists' thinking and artistic expression. For the most part, the villagers seem content to be here in this small corner of the world their ancestors have occupied for generations before, living and doing things much the same way. Amritah's 'landlady' here, where she is staying with Sultana and Devyani, told her she had been a few other places here in the north, but she didn't really see the point, since she had everything here that she needed.
It is these contrasts that fascinate all of us and contribute to our projects in many and varied ways. The village is a space of contrasts and borderlines. 

Day 8
by Sue Fitzmaurice
At this time of year, for a few weeks, the village is harvesting its wheat. In other parts of India, they're picking their tea leaves. Later in the year, it'll be corn, and in some places rice.
The land here is all small holdings, carved out in a multitude of flat, terraced steps of winding, fish-like shapes. You can see where one terrace ends and another starts, but it's not obvious to the visitor whose land begins and ends where, except from high on the hill you can see where some wheat is harvested and some not, so that's probably a clue.
After breakfast this morning, several of us wound down the hill from 4Tables to a field belonging to one of the house staff, some to help and others of us to watch the continuing harvest of her wheat. The path starts at the main road and I've only ever walked the dozen or so steps to 4Tables before, often thinking I must carry on down and see what's there. I've seen cows and goats go up and down the narrow path, and old women – often very old women – walking slowly up with enormous loads on their backs, of grass for their animals, or newly harvested wheat. Nobody walks fast here, despite their fitness and experience with the up and down of the village. We all bolted up the hill paths the first few days we were here, I suppose trying to prove our fitness and general ability to cope with heat and hills. We knocked ourselves out, until we observed the sensible villagers pacing slowly up. What's the hurry anyway.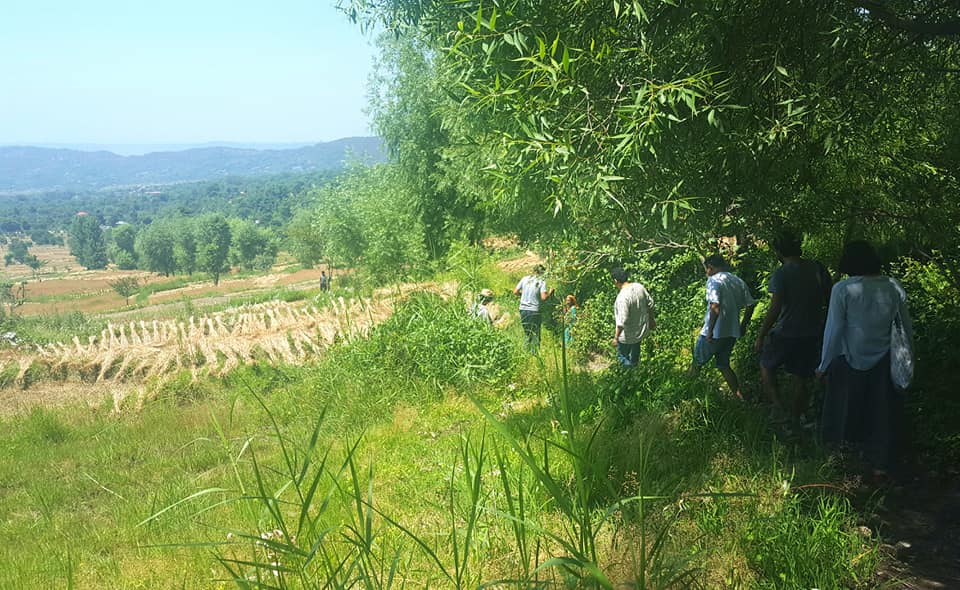 What I didn't know was that the rough concrete path down lasts only about 50 metres before it disappears into a winding, stony, muddy, potentially ankle-twisting track that would challenge the occasional goat. And it was very hot. And there wasn't really any shade.
After walking into a tree branch with my head and sinking into mud in my flip-flops, I made it with the others to Sukina's patch. Sukina and Suman didn't waste any time.
Sarban and Amritah got stuck in: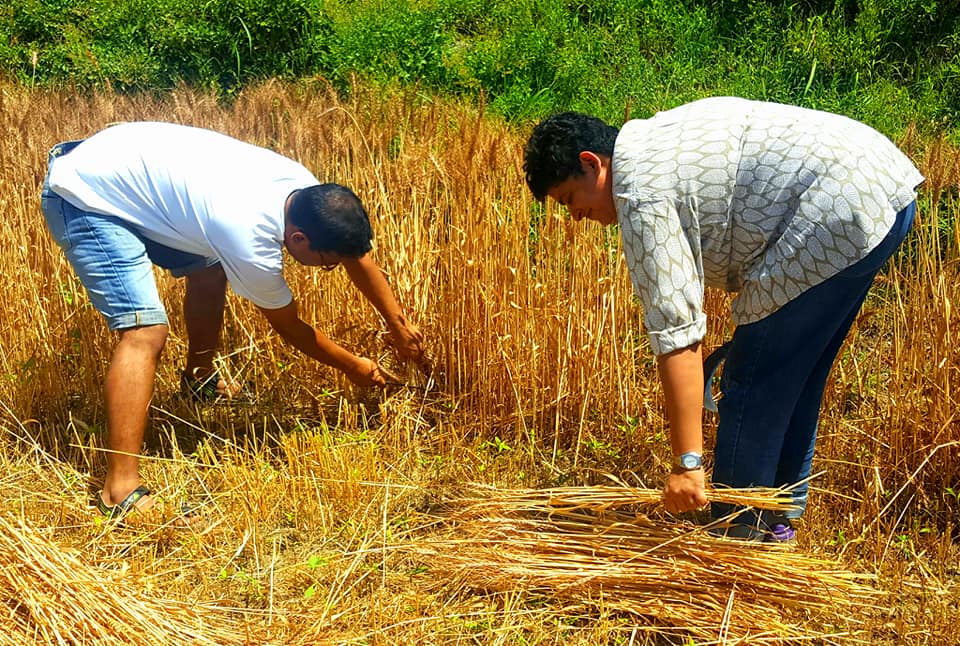 The theme of SAAS3 is Borderlines. Here in the wheat fields, some of the divisions and lines of the village are apparent, from geographic to gender. Mostly it's the women doing this hot, physical work – most of the men are sitting in their shops up in the square. Or just sitting. On the weekends though, you can see some of the bigger boys (and occasionally littler ones), home from school, carrying the loads of wheat.
As the only white woman for miles around – and blonde to boot – I'm an object of, well… something, to the villagers. I frequently hear small children giggling behind my back. I'm used to it now. As I clambered awkwardly down the path (wondering how women 20 years my senior manage this with 20kg on their backs) giggling erupted from one group of women as they wildly gesticulated to an alternative and less ridiculous path than the one I was attempting. I've come to appreciate being a fish out of water and I laughed back, changed course and gave them a thumbs up.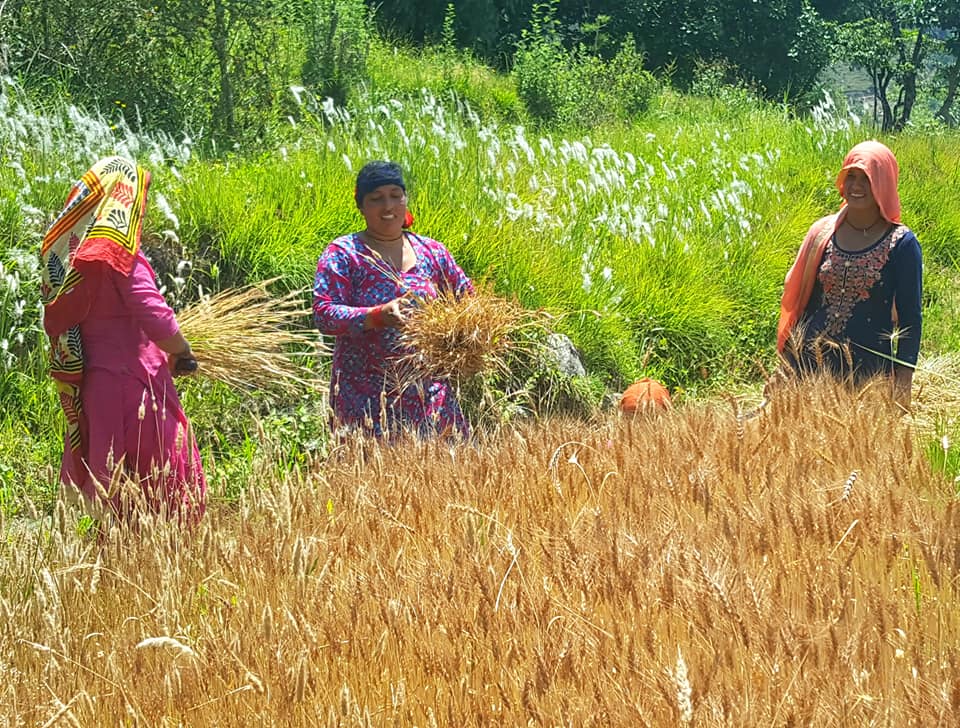 Cutting and gathering the wheat is only one part of the business of harvest time. The wheat has to dry, and all over the village, terraces and yards are covered in the small, tied bunches. The downstairs terrace where one of the artists and I have our rooms was totally covered the last several days, with a narrow track – ie. a few inches – to our doors and the bathroom. One old lady came daily from about 5am to shuffle it about, talking to herself outside my open window, perhaps exclaiming how it was I was still in bed at 7am.
Once dry, it goes to the threshing machines, which run all day, every day, till midnight or even later. You'll generally see a man standing beside the machine, but that's mostly all they do. Stand. Several women will be loading and unloading and sweeping and clearing. It's hot work and it's very, very dusty.
And then without much of a break, the oxen are out, pulling wooden ploughs, turning over the soil in these small terraces, and the next crop is planted. The green shoots will be visible before we leave.
Day 7
Sarban Chowdhury is known as a ceramist but his art is expressed through several forms, including drawing, painting, photography, sculpture and writing, through all of which he explores – in the main – human relationships and emotions. He is intensely engaged in his art, looking often to repeat a single theme over and over in an attempt to portray its many layers and meanings.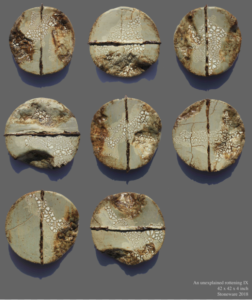 His main ceramic work is with porcelain and the kinds of firing that require an extremely high temperature, beyond that required for simple clay ceramics. Followers of #Shopartartshop will recall in SAAS2 how Mudita Bhandari – a colleague of Sarban's – built her own kiln in the village to fire her pieces made from local clay. The temperature produced by such a kiln is insufficient for Sarban's usual ceramics work. However, he will build a small kiln for some clay pieces. Generally though, his work for SAAS is focusing on installations, crafted from stone, metal, wood and other raw materials found around the village. "People are very kind and generous and helpful in the village. If I see a piece of metal that just seems to be lying around, I'll ask if I can have it, and always people are fine with that."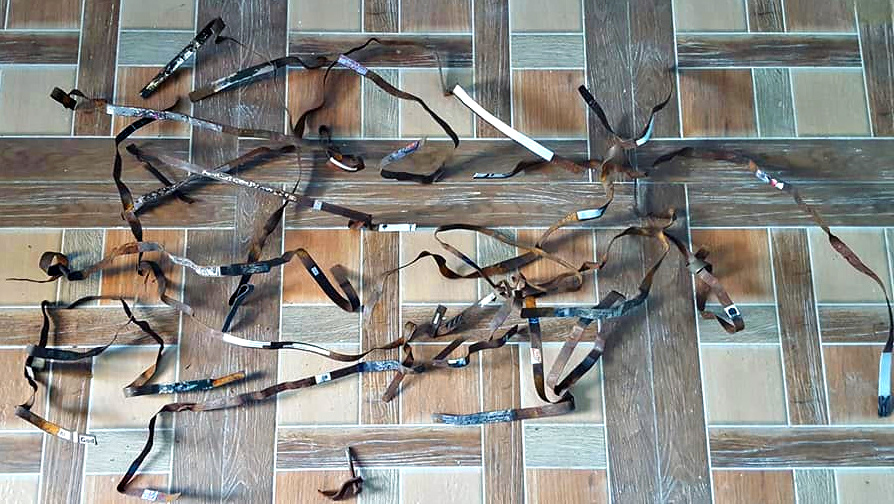 This is Sarban's tenth art residency, having traveled previously to Russia, France, and other places in Europe, as well as around India. "I don't go to a residency to do my usual art. I can do that in my studio. These are my research opportunities. Here I am always thinking about what I can do differently. I have challenged myself here to only use what I can get for free from local sources, so that is a very different way to do art, so I'm thinking all the time about this."
Sarban is interpreting the SAAS theme of 'Borderlines' in various ways. One of his pieces is a collection of bent and twisted metal strips – themselves perhaps a depiction of our modern world – pasted over with cuttings from magazines describing some element of division (borderline) in India and in the world.
Like many artists and writers, Sarban is a watcher of people, observing interactions and behaviours, conscious and unconscious, assessing the lay of the land and seeing how things unfold. His acute mind translates this multitude of dynamics into exquisitely fine and detailed art. Sarban is passionately active in his art. "You have to make a name for yourself. You have to be seen. You can't play at being an artist. This is the other great value of residencies – one great value is that here I'm researching, and the other is that I'm seen by a new group of people."
Did you know it costs just $20 to feed an artist for a week? And only $5 for a room for one night? Supporting art is cool – supporting an artist is even cooler! Help feed our artists at: https://www.indiegogo.com/projects/contemporary-art-festival-in-the-himalayas
Day 5
Saturday is pizza day at 4Tables cafe and everyone was looking forward to it! The pizza was fabulous and visitors and guests got to chat with the artists and enjoy some movies from previous ShopArt residencies and festivals. And 6,000 rupees was raised for the project!
 
Day 4
Sultana Zana is fascinated by networks: natural (eg. tree roots), man-made (eg. roads, digital networks), animal made (eg. sheep tracks) – and the spaces created in and between them – and our awareness (or not) of those spaces.
Her Borderlines project is about some of those spaces – especially very small ones – conceptualised within a series of networks.
One of the key outputs of her project will be a film that takes the viewer into some of these spaces, literally giving them a view from the perspective of, say, a small insect.
Using film and still photography, the hoped-for outcome is that the viewer will feel what it's like to be part of a space that's different from their own.
Using a small microscope, tiny living spaces were revealed within the bark and moss of the trees:

Sultana's shop is at the very top of the village, but her research space is the steep hill behind her living space, still quite high above the main village. It's marked all over with sheep tracks, and looking a little closer, all kinds of other networks the imagination might reveal.

Did you know it costs just $20 to feed an artist for a week? And only $5 for a room for one night? Supporting art is cool – supporting an artist is even cooler! Help feed our artists at: https://www.indiegogo.com/projects/contemporary-art-festival-in-the-himalayas
Day 3
Mumbai potter, Devyani Smith, is occupying one of the most peaceful spots high up in the village, a very old house, no longer occupied. Upstairs are two brightly-painted, mud-floored rooms that will be the painting studio of Asmita Sarkar.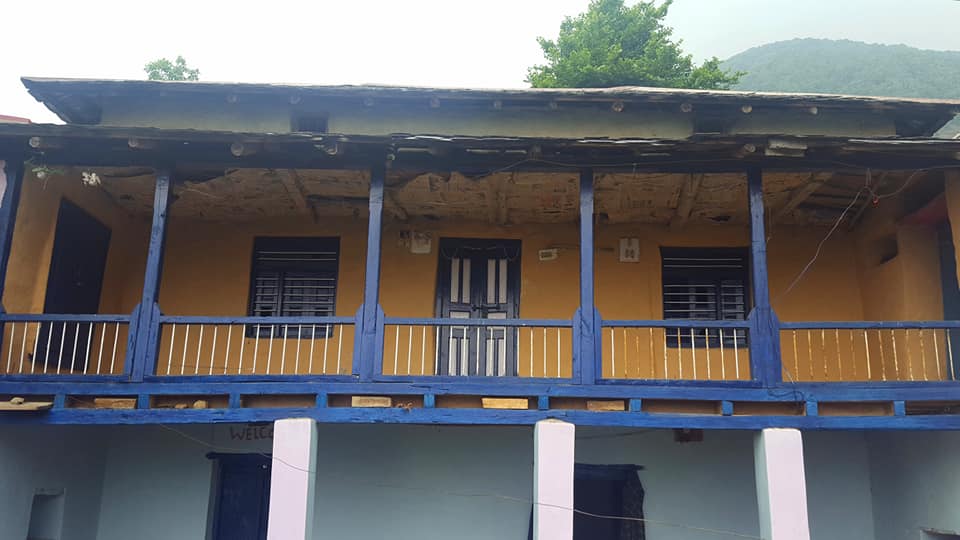 Devyani brought with her from Mumbai, half a dozen huge boxes of mostly BROKEN ceramics from her studio. She has already started to place pieces around her shop space and forecourt, creating for the observer the desire to explore further, to pick pieces up, to touch, to wonder at the placement of pieces.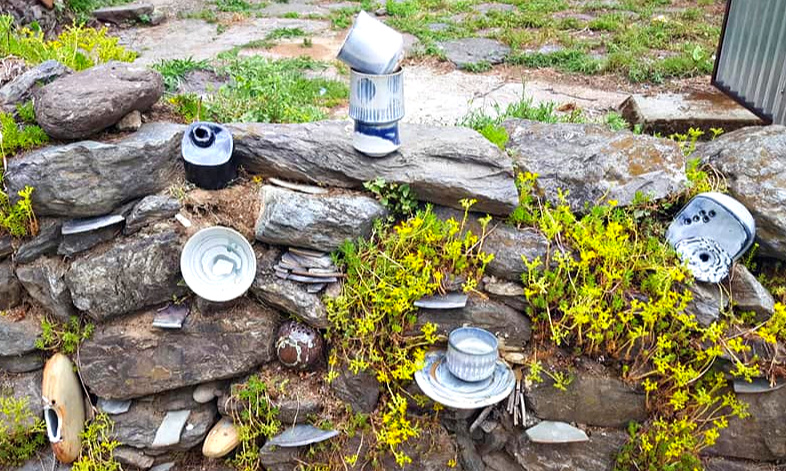 The effect is intriguing and irresistible.
Devyani began potting 10 years ago after a successful career in television, opening her own studio five years ago. She says her friends warned her against a full-time career in the arts – "you cannot create a living doing this", they said – but Devyani knew she could not create a meaningful life any longer in television – her passion was her art – here, working with her hands, was where she found meaning.
She says her artistic style has developed in stages over that time, incrementally as she learns her trade and its science. All art is half technique, half creativity, and each influences and inspires the other.
Upstairs, Asmita has a charming place, with ancient beams, brightly painted walls, mud floors, and an interesting attic up a narrow pink stairway, variously open to the elements, begging for a light show of some kind.
As we sat here this afternoon, exotic birds with long tails flew closely past us. Here, for sure, visitors will stop and rest and enjoy much that fills their senses.
Myself, I'm always intrigued – and a little nervous – about Indian wiring: modern art installations themselves:
This afternoon we were treated to a Himalayan thunder and lightning display of epic proportions, dark and foreboding, with rifle cracks just above, and torrential rain. The landscape is only ever dramatic here.
Tomorrow, Saturday, is 4Tables cafe's 'pizza and movie' night. There won't be the usual movie – instead we'll be showing some movies from the previous ShopArt in 2016, and visitors will be able to meet the artists and find out about their projects. And the pizza, is THE BEST I've ever had anywhere in the world, cooked in Frank's own pizza oven at the front of the house. Always a treat. (The secret's in the sauce!) See you there!
Did you know it costs just $20 to feed an artist for a week? And only $5 for a room for one night? Supporting art is cool – supporting an artist is even cooler! Help feed our artists at: https://www.indiegogo.com/projects/contemporary-art-festival-in-the-himalayas
Day 2
The weather in Gunehar isn't quite conducive to some activities – there's been off and on rain for a few days – but despite that, the artists have been focused and industrious. Most now have their shop sites sorted and agreed on with the owners, and today was all about cleaning and tidying, and preparing to paint.
Pramila and Yash have the fabulous, big, old building below. Yash is upstairs and Pramila is downstairs. Both have mud floors but they're pretty uneven, so they're actually fixing them! With mud – the whole nine yards! This will take a couple of days to complete and for the mud to dry before they can properly move in.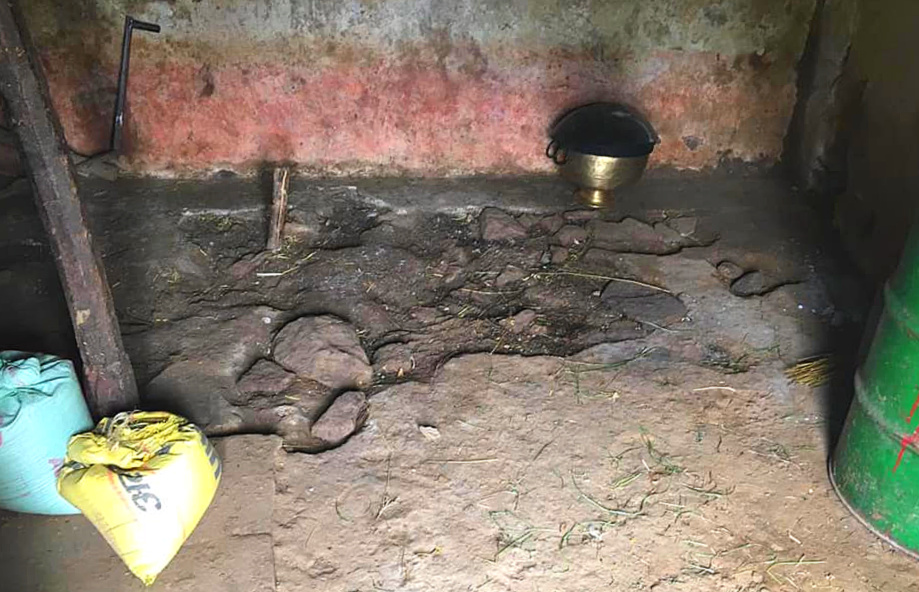 Sultana Zana has the last shop in the line-up, pretty much at the very top of the village, conveniently situated opposite a chai shop. She's sharing with Sarban Chowdhury, and they spent part of the day tidying up in what is otherwise a very fresh, clean building.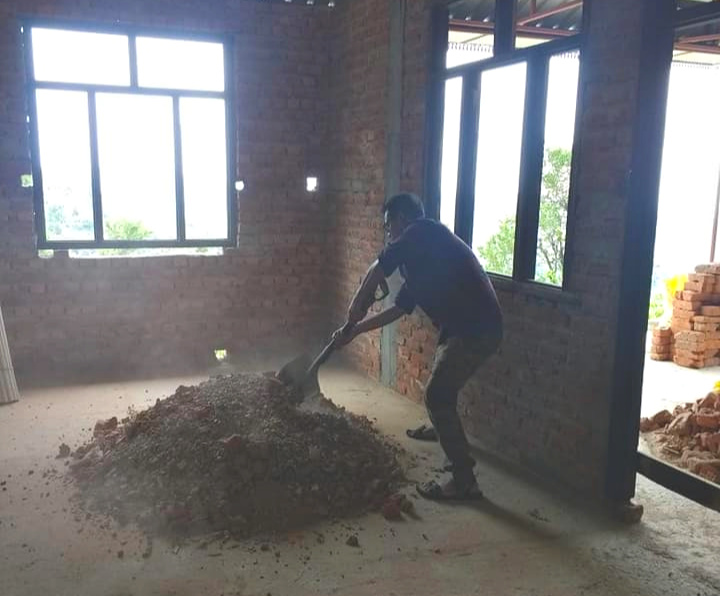 Right now, there's a cheerful, hungry group lined up for dinner, sitting on laptops, chatting about their projects, hoping for sun tomorrow.
Day 1
All of the artists have arrived for ShopArt 3, and today they had to find a studio. For ShopArt 3, the 'shops' / studios will all be in the upper village, an entirely different experience from the main village square. There are magnificent views of the Himalayan foothills rising behind the upper village, and the Kangra valley far below.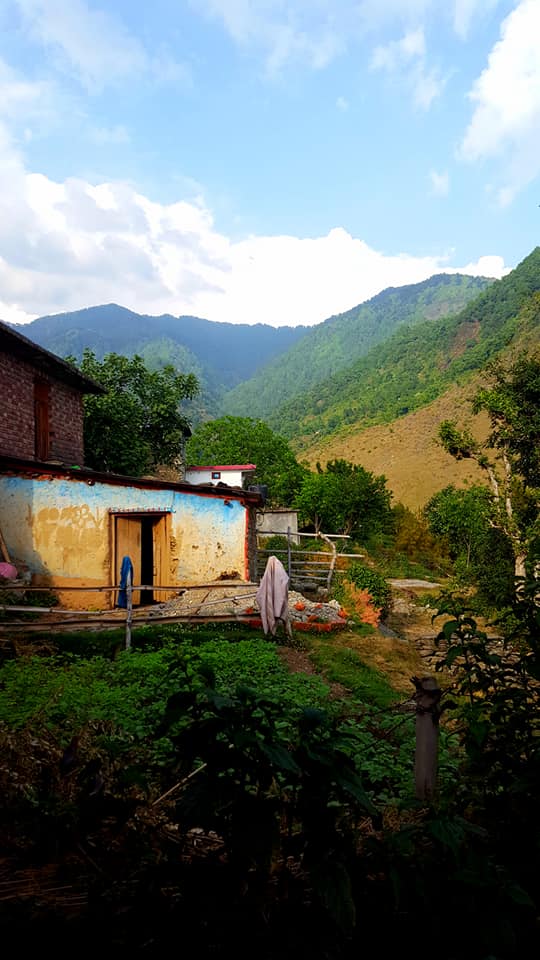 Most of the available spaces are in old stone and mud dwellings, now deserted. Their character is unmistakable.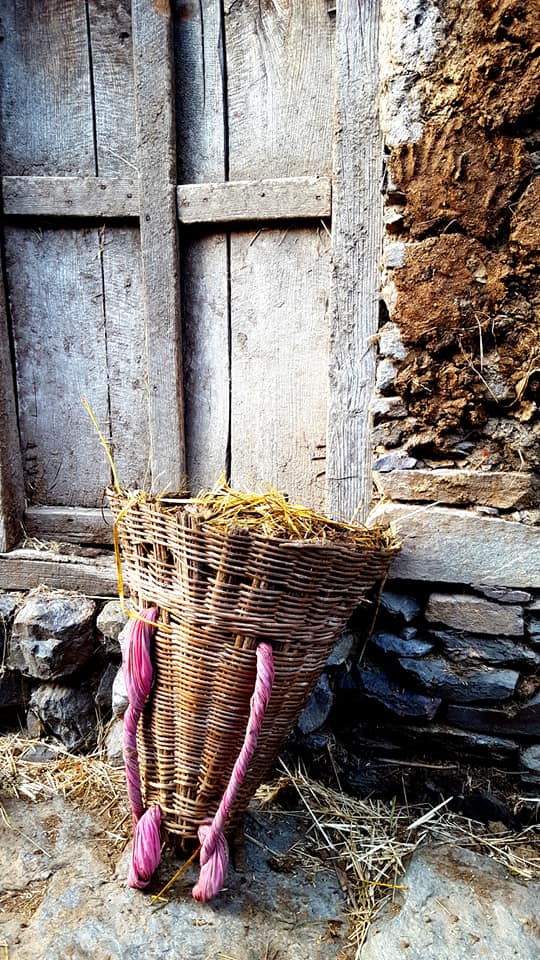 Artists see art everywhere, in the texture, the materials, the light and dark, even the smells of the village.

Above: Pramila Choudhary, Yash Sahai, Gaurav Gokhale, Frank Schlichtmann, Anoop from #Foundonallfours, Devyani Smith, Jasmine from #Foundonallfours.
 
Article, The Tribune
The story of Shopart Artshop (SAAS) so far, captured thoroughly in The Tribune, Sunday 12th May 2019.